Children are our most precious gift. Learn together through play activities that target healthy child development to help children develop their language & motor skills. Build parenting skills & learn to set boundaries & model healthy lifestyle choices. With an emphasis on parent-child communication, our programs encourage parents & caregivers to use each activity as a learning opportunity for their child.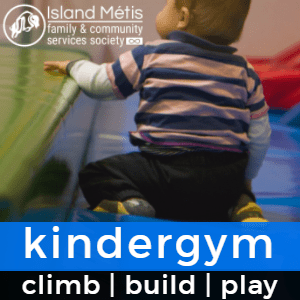 Okay! Let's Play!
A large-motor play program for indigenous children ages 0-8 & their caregiver
Date: Fridays
Time: 10:00am-11:00am
Location: Gym- 345 Wale Rd (Westshore Child, Youth, and Family Centre)
Participation: In person drop-in
Important Information: Gift cards for families that register will be included in their monthly kits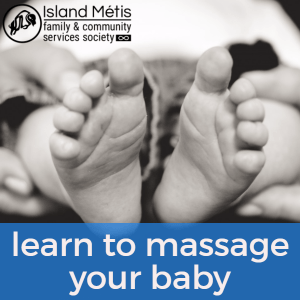 Baby Massage
A 5-session course for babies who are newborn to 10 months or crawling & their parents or caregivers. Form a strong bond of love & trust with your baby. Help your baby sleep better & longer. Ease your baby's digestive system, colic pain & constipation. Stimulate your baby's neurological development. Learn to understand your baby's body language & cues.
Date, Time & Location: Determined individually.
Participation: For more information & to register contact reception@metis.ca or 250.391.9924
Important Information: Open to Indigenous families & caregivers of Indigenous babies. Gift cards for registered participants.